Dj Rowllins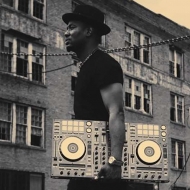 KEN ROWLLINS is a fast-rising Houston-based African DJ/producer/Music Director renowned in the United States music scene and has an equally extensive international recording profile.
He featured in the Star Quest 2008 TV reality Show where his ability to make music speak to your mind was discovered – in recognition of his high work ethic, quality content and live performances. In addition he was nominated for 4 Awards in Africa including Best music director/producer 2015 awarded in Houston Texas by Mount Zion Ministries International. Generally referred to as an Afrobeats hip-hop Disc Jockey, DJ Rowllins is best described as a creative hybrid of African beats, American sounds and Global melodies. In late 2014 he was featured live at the most prestigious award show in Dallas Texas (AFFRIMA) with the Guinness book record wining choreographer KAFFY DANCE, the excellent self-produced and self-written 'TRANSITIONS' chirography Mixed music to great acclaim garnering immediate support from influential and notable taste-makers across the board like Mixmasterbrown, Iyanya, Gospelondebeat, DJ Ola Punch, Kaycee, Dj Jimmy Jatt, Banky W, Samsong, Eben, Comedian Jedi,MCPC etc. His mix is on regular rotation on numerous gospel and secular event and radio networks worldwide and especially Africa – Nigeria, Kenya, Uganda, Ghana, Sierra Leone, South Africa, Gambia, Tanzania being examples of where he has repeatedly undertaken radio interviews over the last 12 months. His charismatic energetic performances, in 2014 he featured on the line-up of the biggest Afro-beats concert/Award show in the United States headlined by Davido, Eddy Kenzo and Kaycee in Dallas Texas. In the year 2014 he'd toured around the American gospel party music with his party mix. DJ-rowllins featured on the line-up of nearly every major Afrobeats event in the United States in 2015 and was booked on several US festivals last summer including the world famous SXWS music Festival in Austin Texas where he performed twice over two days. Throughout the year he also performed at numerous events and festivals across the world including concerts in Sweden, Ghana, Nigeria DJ Rowllins also was the official DJ for the Heart Experience Houston Texas with the world famous saxophonist jazz Sola Iyiola 2015 US tour and was official support act for be yourself Comedy Show with MPCP LIVE and Comedian JEDI Ayo Comedy Show in Houston Texas and Washington DC. 2016 proved a sentinel year for Dj-Rowllins and he shows no sign of slowing down into 2017. His first live booking for 2016 was supporting good friends The Herat Experience band at their recent sold-out headline gig at AVYA Centre Houston Texas. Further bookings for the new year are busy coming in and he has recently been invited to support Kelly hansome on his yet unannounced US shows and is already preliminary booked for SXSW Festival in Austin, Texas March 2017. He has also recently collaborated with the very popular Nigerian Gospel Artist Samsong on his US Tour. Meantime many favored artists continue to request collaborations and productions with him whilst promoters seek bookings with this outstandingly gifted young talent.
This user account status is Approved
This user has not made any comments.